Hi,


WELCOME TO THE APRIL 2007 ISSUE #3 OF 'THE VANCOUVER VOICE'! We hope to keep you updated with current news in and around beautiful Vancouver, British Columbia. Check out our issue "spring has sprung and we are ready for some fun!"

The clouds are beginning to break and the rain is becoming less frequent. It is sunny at 8am these days and it always makes people smile more, cheery and people tend to make the effort to be more social and say hi to one another on the streets. Ahhhh, life is good and it's time for some fun in Vancouver. Time to dust off winter's effects and jump into spring. Let's get started with the newest upcoming events!

April is a very important month for Vancouver!!! It is the first month in the New Year where there is a statutory holiday. It is the start of the Vancouver Canucks playoffs. It is also where everyone does some spring cleaning, gets out all there spring clothes and hits the gym or the seawall.
An Easter egg hunt is very exciting for the kiddies and for some grown ups too ;-) Myself included! It is time to get out and celebrate spring. Work can be done and then it is playtime for all! Vancouver is a play land in itself and provides numerous activities for all types such as singles, couples, sports fans and adventurers as well as families.
THE VANCOUVER CANUCKS!!!
Hockey is loved by Vancouverites and visitors alike. It isn't just a spectator sport for some residents in Vancouver; it is a way of life! A natural part of existence :-) The beloved Vancouver Canucks have a dedicated following in the city and their arena, GM Place, is packed for every game the team plays at home so consider yourself lucky if you can find tickets. Check out more about the Canucks here.

WE ARE ALL CANUCKS!
TAKE A KIT KAT BREAK AND GET OUT OF THE OFFICE ON TIME!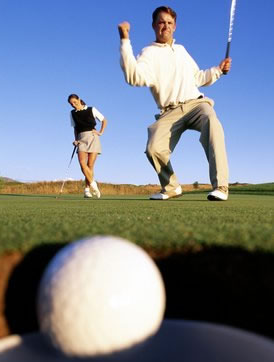 It is time to take a break from slaving at work and do something you enjoy and that is quite therapeutic as well some say. Spring is here and it is time to get your tees out and dust off the old golf clubs. Vancouver has some fabulous golf course where you can practice and become a pro yet again!
Check out the BC Golf Guide for more information on where to
get your game on! FORE!
TELUS WORLD SKI & SNOW FESTIVAL

You are invited to the biggest annual celebration of music, arts, sports & culture on the planet. For 10 days and 10 nights, Whistler turns up the volume with 50 live concerts, major pro ski and snowboard comps, legendary arts events, endless nightlife and the best spring skiing & riding in the world.

Bring your friends, bring your family, bring yourself and get ready for the time of your life. April 13th-22nd, 2007. I went last year and believe me, take your sunglasses and lotion! The day I went was HOT and i ended up looking like a tomato! You have been warned, granted it is not raining or something! Noooooooo, it is not allowed ;-)

Visit: Telus World Festival for more information on the event.
HERE COMES THE EASTER BUNNY! GET YOUR EGGS READY!
Easter is a great time of year where families and friends get together to celebrate whether it be religious or family time. It truly brings people together and one thing I always find that is such an amazing thing to do is...to open your heart to others that don't have anyone to share Easter lunch or dinner with.
I use to go to an international university where all of my friends could not fly home for holidays like Thanksgiving, Easter and Christmas so our door was always open and full of festivities! The heart is an amazing gift we all have been given, so let's share! So let's get on with the activities for Easter!
Listed below we have some fabulous suggestions for you and your family or friends. We all are young at heart so decorating an egg again might be fun!!
EASTER EGGCITEMENT – EASTER EGG HUNT
A Roundhouse Special Event
Location: Exhibition Hall
Sat Apr 7th $2.00/child
0-3 years old 9:30am-10:45am
4-12 years old 11:15am -12:30 pm
Hippity Hoppity over to the Roundhouse Exhibition Hall for an Easter Egg Hunt. The event will include a chocolate egg hunt with arts & crafts activities and a visit from the Easter Bunny! No need to bring a basket, this will be part of our arts & crafts activities.
Extras: Please pre-register, as/drop ins may not be accepted. Children must be supervised by an adult.
For more information please visit: www.roundhouse.ca

Lower Mainland's BIGGEST Easter Egg Hunt
Start Date: Monday, 26, March, 2007 - 12:00am
End Date: Sunday, April 8th 2007 - 11:59pm
Details: Station Z95-3 & the Easter Bunny teamed up this year to hold the Lower Mainland's BIGGEST Easter Egg Hunt. Look for our plastic eggs everywhere - like phone booths, parks, bus shelters, and so many other spots!
The eggs are stuffed with chocolate from Purdy's and 1,500 ZPointz. For you ZPointz fanatics, there are 10 different codes out there.
Here's an outline of where little 'hoppity' will be running around.
March 26 Richmond
March 27 Coquitlam/Maple Ridge/Vancouver
March 28 Langley/White Rock/North & West Van
March 29 New Westminster/Burnaby
March 30 North & West Van/Surrey
March 31 Richmond/Vancouver
April 1 Surrey/Burnaby
April 2 Vancouver
April 3 Burnaby/North & West Van
April 4 Surrey
April 5 Richmond
April 6 Coquitlam/Maple Ridge
April 7 Langley/White Rock
April 8 New Westminster
Check out:www.z95.com
False Creek Community Centre
Easter EGGstravaganza
A family event full of EGGstra surprises. There will be a continental style breakfast, games and crafts, the bouncy castle, entertainment and our annual Easter Egg Hunt with a guest appearance by the Easter Bunny. Space is limited and registration in advance is required as we need to know how many eggs to hide.
Details:$4.00/person children under 1 are free.
Date:Sat April 14th 11:00am-12:30pm

Blarney Stone Egg Hunt
And for you grown ups that want to get out for tonight, the Blarney Stone is doing a grown up Egg Hunt. Good Friday means a GREAT Thursday here at the Blarney Stone.
Details:Doors open at 6pm with their newly renovated kitchen. Tonight they have door prizes, great drink specials; two for one shooters, an Easter egg hunt at 10pm and live music with Killarney.
See more details here: Blarney Stone Egg Hunt
BC AUTO SHOW

We also have the annual BC Auto Show on right now! March 31st to April 8th!

The BC Auto Show
Canada's third largest Auto Show and one of Western North America's premier automotive exhibition events.
Location: BC Place
Tel: 604.214.9964
BC AUTO SHOW

Don't forget to check out some of these other events happening around town listed below!
Playland
April 21st to September 30th Playland
B.C.'s premier nine-acre amusement park filled with electrifying rides.
Location: Pacific National Exhibition Park.
Location: PNE Fair Grounds.
Tel: 604.253.2311
PNE FAIR GROUNDS
The Sun Run April 15th
The Vancouver Sun Run Canada's biggest run and the second largest 10K race in North America. Walk or run the scenic route through downtown Vancouver, finishing at B.C. Place Stadium for snacks, refreshments and entertainment. 2007 will mark the run's 23rd year.
Location: Downtown Vancouver.
Tel: 604.689.9441
The Annual Sun Run
WE HOPE YOU ENJOYED OUR APRIL NEWSLETTER WITH INFORMATION ON WHAT TO DO THIS MONTH AND WHAT TO SEE! YOU CAN ALWAYS VISIT OUR 'YEARLY EVENTS' PAGE HERE!
HAPPY EASTER FROM ALL OF US AT EYE ON VANCOUVER!(I am going to cook a yummy Lasagna!:-)
See you next month!
Holiday wishes,
The Team @ Eye on Vancouver