Bizzy Butler - Personal Assistants
by Mary Ann Westendorf
(Maple Ridge)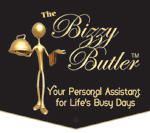 Bizzy Buter Concierge Services Ltd.
The Bizzy Butler Personal Assistants are on-call to help you with a plethora of domestic chores and services in the Greater Vancouver area and the Fraser Valley.

Services are limited only by your immagination!
Here are some of the services we have provided...

Personal Shopping
Running Errands
Oversee movers
Delivering keys and documents
Banking
Courier runs with confidential information
Packing and unpacking
Waiting for trades people
Waiting for furniture deliveries
Waiting in line for art sales or tickets
Delivering gifts to hospital patients
Delivering champagne-a-grams and flowers
Costco runs for groceries
Assisting people with day surgery, rides and after-care in their home

www.bizzybutler.com

call Mary Ann at 604-466-9008


Join in and write your own page! It's easy to do. How? Simply click here to return to Vancouver Home and Garden Information.