British Columbia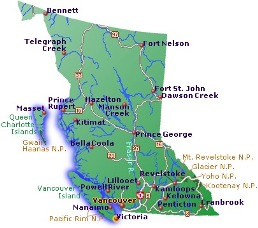 British Columbia is Canada's westernmost province. BC shares a common border with 4 US states, Washington, Idaho, Montana and Alaska. And in addition the Canadian provinces of Alberta, Yukon and The Northwest Territories. BC covers a total area of about 365 thousand square miles or about 925 thousand square kilometres. With a population estimated in 2008 at just over 4.3 million people you should find someone in BC every 12 square miles. You might find it curious to learn that according to wikipedia when you take out people who identify themselves as English or Canadian there are 748,905 Scottish people living in British Columbia.

So you may be wondering where the typical Vancouver resident goes when they want to get out of town for the weekend? We're glad you asked because this where we turn over some of the heavy lifting to our link partners. When I need to get out of town I usually go to the Okanagan valley. I have family there but you might be curious to know that this is BC's wine country. Another popular spot is Vancouver Island. There is lots to do here and Victoria is particularily popular with a lot of people. The gulf islands like Saltspring and Galiano will make you feel like you are on another planet! It takes some explaining to help you figure out how to get there - but our link partners will help you with that. Enjoy!
Have A Great Story About This Topic?
Do you have a great story about this? Share it!
---
Boutique Hotels Vancouver
Welcome to Boutique Hotels Vancouver! Kamloops Secrets
I used to live in Kamloops when I was growing up and my sister still does. We also have extended family from this city in the interior of BC. Kamloops, also known as the city of tournaments, is the gateway to Lake Shushwap and home to two world class golf courses, Sun River and Tobiano. Oh and you will also find Sunpeaks Resort a ski hill that's so great former Canadian Olympic Gold Medal Skier Nancy Greene Raine sold her resort in Whistler and opened another one at Sunpeaks! SaltSpring Island... Dubbed the "coolest island in Canada" by the Washington Post, we are home to over 10,000 free spirits, artists, writers, alternative therapists and a sizable Buddhist community. And we're just a short ferry ride from Vancouver. Come visit... Okanagan Vacation GuideOkanagan Vacation Guide... Helping You Explore And Discover The Okanagan Valley in Beautiful British Columbia Canada! Discover Vancouver Island
Discover Vancouver Island for yourself, with the insiders guide. Voted number one by "Conde Nast Magazine", number one North American Island for a vacation, eight years running! Discover the Pacific North West. Chilliwack Abbotsford Bed Breakfast
Stay in the new, spacious, Royalwood B&B and relax in comfort and quality. Take advantage of our Stay & Play golf packages for free golf with your stay! Rent 2010 - Your Vancouver-Whistler Home
Rent 2010 lists Vancouver and Whistler condos, apartments, and houses available for rent. Rent 2010 also maintains a registry of visitors seeking housing during their visits in 2010. Victoria BC Canada Guide
You Only Have A Few Days In Victoria ... Where do you START ??? Visit the city that was twice named 'Best City' on the Americas since the year 2000. Enjoy the history and magnificent nature that surrounds this Canadian capital. Enchanted Galiano Island
Visit Galiano Island for a hiking vacation, to kayak wilderness, or a spectacular bird watching vacation! Loved by naturalists, adventurists, and beach-bummers alike, this Island is truly unique.
Vancouver Telephone Directory
Please also visit our complete Vancouver Telephone Directory to do reverse address, reverse phone number and area code/zip code searches using the Vancouver Whitepages


Vancouver

is located in in the westernmost province of

British Columbia

in the country of

Canada

. With Vancouver's close proximity to the

United States

, Vancouver is Canada's gateway to the Pacific Rim nations and the rest of the

World

. Please visit these pages to learn more about British Columbia, Canada, the United States and other destinations around the World.