Chinatown in Vancouver


This is North America's second biggest Chinatown, after San Francisco's. Mandarin and Cantonese are the mother tongues in 30 per cent of Vancouver homes, which makes Chinese the largest "minority" ethnic group. There are lots of interesting markets with many varieties of mushrooms, vegetables and fresh and dried seafood. You will also find inexpensive housewares and traditional Chinese medicine.

It is a genuine place with hotels, shops, markets and culture. Virtually every building replicates an Eastern model without a trace of self-consciousness, and written Chinese characters are featured everywhere in preference to English.

Striking and somewhat of a surprise after visiting with downtown's skyscrapers and fancy shops , the district helps explain why Hong Kong immigrants continue to be attracted to the city of Vancouver. Take note, it is a district with a different edge, visitors and locals should try to stay away from the area's darker streets when night falls and certain parts of East Hastings just about any time.

During the summer, on weekend evenings, Keefer and Pender Streets become a busy open-air night market. If you have time try some yummy egg rolls or some dim sum at one of the many small fabulous Chinese restaurants.

Relax in the peaceful Dr. Sun Yat-Sen Classical Chinese Garden, or marvel at the ornate Millennium Gate which is just steps away on Pender Street. Visit the Chinese Cultural Centre Museum, or participate in one of its many activities that they have.

Vancouver's Chinatown is the place to visit for a taste of Chinese culture and it is recommended to browse through the fascinating shops or stroll through the fresh market called T&T Supermarket to truly get the true vibe of Chinatown.

Try consulting a traditional Chinese medicine herbalist or take your photo in front of the massive Han Dynasty Bell in Shanghai Alley. There are many waking tours that will take you around Chinatown so you can explore cuisines, shopping, architecture and the culture.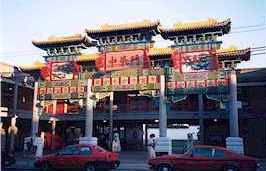 This town appeals to locals, visitors, artists and people of all nationalities. It is where one can sample world-famous Chinese cuisines and savor the taste of rich ethnicity of a culture that has surpassed generations. This town fascinates with its' striking collection of designated heritage buildings and tales that unfold the drama and link to the life of early Chinese pioneers.