EasyRent Real Estate Services Ltd.
by Karl Murray
(Vancouver, British Columbia, Canada)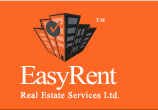 Rental Apartments in Vancouver
EasyRent offers listing services for Vancouver Apartment Rentals featuring condos, townhouses, and new homes. Search listings to find your next home.

For General Inquiries

Tel: 604.662.3279
Fax: 604.608.9187
email: info@easyrent.ca
http://www.easyrent.ca

Join in and write your own page! It's easy to do. How? Simply click here to return to Real Estate.