Planet E Construction
by Doug
(Vancouver)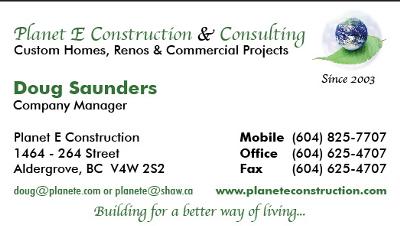 Welcome to Planet E Construction & Consulting.

My name is Doug and I am the leader of Planet E Construction & Consulting.
I bring to the table knowledge, honesty, experience, and most of all I look out for my clients. I'll give you my best advise and supply you with trades that are reputable, and have my work ethic for your home.

Planet E Construction framers are an organized team of hardworking fellows.
We have no room for disrespect, or bad workmanship.

To view our portfolio email Doug at planete@shaw.ca. I be happy to send it to you.
Or come by and visit one of our job sites.