ReVision@Creekhouse Art Show - Now Extended until July 24
by ReVision - the Art of Recycling Society
(Vancouver)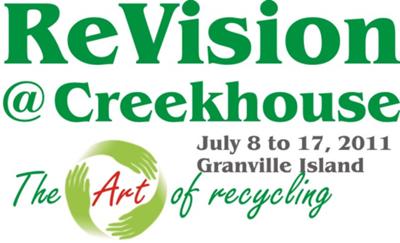 Now Extended until July 24!

ReVision@Creekhouse July 8 to 17, 2011
Granville Island, 1551 Johnston Street, Vancouver, B.C.

Art Show - All Events Free
A recycled art exhibit and festival featuring work made from used, salvaged, or scrounged materials. Visit the Creekhouse shops, courtyard and boardwalks in the heart of Granville Island to view work by our many talented artists. Final 2 days, July 16 and 17, special events include new weekend exhibits, a hands-on creation station, music, and a wearable art parade. For more information visit our website at www.revision-theartofrecycling.com.