The Spy Store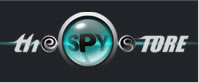 The Spy Store Canada
We have been in business for over 17 years in the Vancouver area. The company started in Surrey, then expanded to our Vancouver locatation on the corner West Broadway and Burrard. The Vancouver location has been a permenant fixture in the Kitsalino and Vancouver area for over 12 years. Calgary soon followed suit where it is located on Macleod trail. With the addition of our lastest store, that has made us the largest spy store electronics company of its kind in not only Canada but also North America.
We Specialize in a wide variety of Security and Surveillance products. Anything from Professionally installed Commerical security Cameras and Digital video recorders to Pinhole cameras and nanny cams. We also have a full range of Nightvision, Phone and audio Recorders, hidden cameras, ip cameras, 2-way radios, scanners, GPS trackers and loggers, plus bug detectors and camera detectors for counter-surveillance.

Join in and write your own page! It's easy to do. How? Simply click here to return to Other Services in Vancouver.