Travel Checklist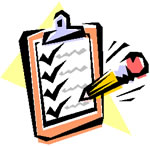 It is always a smart move to make a 'travel checklist' before you head off into the blue yonder and you will be even happier when you arrive and are fully prepared for your trip. Feel free to print this and use this one as a template and add some of your own. We know you won't regret it! This will help ensure a safe and problem-free trip by taking these steps before traveling! Enjoy your vacation!

Your Checklist before you leave.....

#1 - Pack a copy of your destination hand-book so you will know how to find everything you need and also know what to see, do, where to stay and eat. #2 - Carry a passport that is valid well beyond the date of your anticipated return to Canada or your country of origin. Remember to keep a copy of the identification page separate from the original and tuck it away somewhere safe. #3 - Plan your budget and itinerary. #4 - Arrange your travel and health insurance before leaving. #5 - Leave copies of your passport identification page, itinerary and insurance policy with friends or family. #6 - Obtain any required visas well in advance. #7 - Check whether dual citizenship is an issue for you. #8 - While abroad, keep receipts for purchases and make special arrangements for food, plants and animals brought back to Canada. #9 - If travelling with children, carry documentation proving your right to accompany them (consent letter, court order). #10 - Register with a Canadian government office abroad, if needed. #11 - Take care of health needs: prescriptions, medical certificates, vaccinations, supplies, extra eyeglasses, solutions etc. Because of new flight restrictions you cannot pack liquids of any sort, so make sure you know where to find what you need in the country you are visiting. #12 - Obtain an International Driving Permit, if required. #13 - Anticipate financial needs: departure tax,local currency, traveler?s cheques, how much you will be able to spend. #14 - Prepare for your flight by carefully attending to documentation, luggage and airport security. Make sure your carry on follows with airport/flight rules & regulations.


We hope this Travel Checklist has helped to get you planning for your vacation away! Enjoy!





Current Time and Weather in Vancouver