What to Pack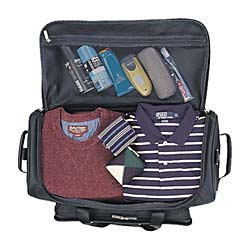 Knowing what to pack can be almost as difficult as knowing where to go. There are certain things that you should definitely have with you and a couple of things that are best left at home.

If you?re not sure what to pack in your carry-on, be sure you check out the Canadian Air Transport Security Authority?s tips page before you get started.

Not sure if something is allowed in your checked baggage? Read the Canadian Air Transport Security Authority?s checked baggage rules at the 'carry-on' link page above before you end up packing something you shouldn?t have.

It?s important to have any prescription medicine with you and know how to use it, when to use it and any common side effects you might have. This will better prepare you to let flight attendants know what to do incase of any emergency.

It?s best to wear comfortable clothes while travelling. Try to wear loose clothing and nothing too constricting as the pressure when flying can lead to bloating at times and can be quite uncomfortable.

Great, you?ve decided to get out there and be active. Ask your airline the rules about what sports equipment is allowed on board aircraft and what has to be checked with baggage. There are also special requirements for certain equipment, so before you get to the airport with your equipment in hand, make sure that it?s on the list.

Electronic devices, such as portable computers, cellular phones and CD players, may be screened using special screening equipment. This procedure will not harm your electronic devices.

If you happen to be travelling with Air Canada, be sure to check out these packing tips. If you happen to be flying another airline, be sure to check out information on their site.
Vancouver Telephone Directory
Please also visit our complete Vancouver Telephone Directory to do reverse address, reverse phone number and area code/zip code searches using the Vancouver Whitepages


Vancouver

is located in in the westernmost province of

British Columbia

in the country of

Canada

. With Vancouver's close proximity to the

United States

, Vancouver is Canada's gateway to the Pacific Rim nations and the rest of the

World

. Please visit these pages to learn more about British Columbia, Canada, the United States and other destinations around the World.