Writer's Retreat B&B
by Clive Scarff
(Qualicum Beach, BC)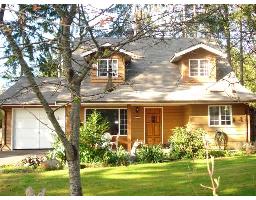 Writer's Retreat B&B Qualicum Beach
The Writers' Retreat B&B in Qualicum Beach Story

A few times in my past I have wanted to put the finishing touches on a project in a romantic fashion, away from home. Somewhere cozy, quiet, and away from home. Think "Misery" sans Kathy Bates. And I could find cozy, found quiet, and the away from home part was easy. What was not easy was finding affordable. These days a few private days away (especially a week) for a starving writer, especially if not sharing the expense, can be several hundred dollars, even upwards of a thousand. So when I found myself with an empty nest, the idea of renting a room out to liven up the place was suggested. But then I thought, no! I – the last person my friends would ever expect to open a B&B – am going to open a B&B geared towards writers!

Everyone Welcome

Now, anyone is welcome at Writer's Retreat B&B, but you will find the ambiance is most definitely suited to someone who needs some peace, quiet, away time, at an affordable price. We are just off the Old Island Highway in the north part of Qualicum Beach. About a par five from the ocean as the crow flies, about five minutes' drive from some of the best beaches on Vancouver Island. Another two minutes and you are in the quaint "downtown" of Qualicum Beach (nicer than Cabot Cove and with far less murders) where a chain or box store is not to be found. There is a nine-hole golf course in the centre of town, and 5 more courses within 20 minutes (two of them resort/championship quality). An indoor swimming pool is nearby (with salt water, hot tub, sauna, & steam room), as is a pub on the beach, the quaintest fish and chip restaurant this side of England, the world famous Beach Hut a "real" hardware store, a library in the quaint town hall, and possibly the nicest grocery store in the world in Quality Foods' flagship store "Qualicum Foods". The only place you will find Starbucks coffee I should mention.

Your Room and Surroundings

Now, about your room. It is on the main floor, with a quasi-private entrance through the laundry room (use of which is complimentary). It is yy x yy, with a closet, baseboard heat with your own control/thermostat, an elegant writing desk, cable TV, and wireless internet access. Included in your room is a printer, monitor, wireless mouse and wireless keyboard, so you can just bring your laptop and not all the peripherals. For you old-fashioned types, also included at no extra cost, is a pencil. To keep your room work-like by day and sleep-able at night you can dream your ending on a comfy pullout. And while your bathroom is upstairs, it is your bathroom for the duration of your stay.

Breakfast is not fancy but it will fill you up, and coffee is always the push of a button away. And you are always welcome to a shelf on the fridge and use of the kitchen.

We are on a half an acre, so when the weather suits you are welcome to do your scribing in the quiet of the shady garden, and the wireless internet enjoys it out there too. There are trails nearby as well and… a place to drive golf balls. How many B&Bs have that?

How To Get Here

If coming from Nanaimo 1. Take the Inland Highway north to the Qualicum Beach exit (this is also the junction to change highways to Tofino).

2. Head east (down) Memorial Ave to the roundabout. Go straight through if you want to hit the town of Qualicum Beach, or turn left if you want a shortcut to the Old Island Highway. Whichever way you go, once at the Old Island Hwy turn left and Hobbs Road is 3.5 km from the shortcut route, about 5 km from the "through-town" rouite. (There is a 24 hour Shell gas station at the corner of Memorial and Old Island Hwy (through-town route).

If coming from Parksville you may just want to stay on the Old Island Highway and head north to Hobbs Road; about 17 km from downtown Parksville.

If coming from Courtenay/Comox take the Inland Highway south to the Horne Lake exit, and turn left. Head down the twisty Horne Lake Rd until you reach the Old Island Hwy (you cannee go no further) and turen right, heading south to Hobbs Road (about 7 km).

If coming from Tofino/Port Alberni head all the way east, beyond the entrance to the Inland Highway, into Qualicum Beach and follow the same directions as part two of "coming from Nanaimo".

Landmark: The Dashwood Volunteer Firehall is on the corner of Old Island Hwy and Hobbs Road. We are the first house on the left past the train tracks.

If coming by train: The E&N Railway stops in Qualicum Beach once a day from the south and once a day from the north – let us know and we will come pick you up!

The Qualicum Beach Airport is also close by.

Rates

$50 per night without breakfast, $57 per night with breakfast.

Per week: $300 without breakfast, $342 with. (You are always welcome to use the kitchen.)


Rates are based on single occupancy. Extra $7/day for additional person if having breakfast.

Book Your Stay

So whether you are writing the final chapter of the Great Canadian Novel, striving to write "Fade Out" on page 120, or just in need of a quiet and cozy place to de-stress at a price that does not defeat the point of de-stressing, The Writer's Retreat B&B in Qualicum Beach is the place for you. To book or simply inquire further just send us an email at writer4653@hotmail.com or call 250-594-4653.

A Little About Me

I have a communications degree from Ryerson University and have been a professional writer since 1985. My passion is writing screenplays (have 8 so far) but my subsistence comes from writing about golf. I have a successful book on the golf swing, another about to be released, and a third in progress. As well I have a weekly golf column as well as a now-obligatory blog and newsletter. I am still a bit of a twit about Twitter, try to face Facebook, and have no Pipl skills whatsoever.

My favourite career memory was writing athlete profiles for both the Barcelona and Lillehammer Olympic Games, the funniest stuff I ever wrote was for the Canadian Gemini Awards, my dearest project was writing a kids' book for my son, and a career lowlight was writing for a CBC fishing show (there's only so many ways to say "nice fish"). I am also a founding member of the Qualicum Beach writing group "WIP" (Writing in Progress) and if you are staying here when our group meets (every other Tuesday evening) we'd love to have you attend as a guest.