Canada Place Pictures Page 2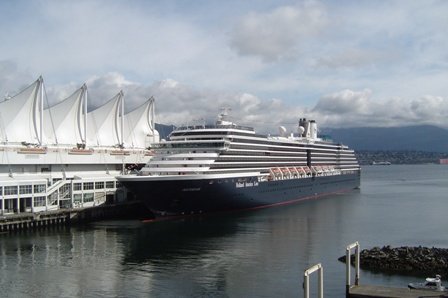 Canada Place is also a cruise ship terminal. In this picture you see the cruise ship MV Oosterdam tied up along side Canada Place. This is one of the embarkation and disembarkation points for the cruise ships that call on Vancouver. This cruise ship will sail to Alaska.You are looking north to North Vancouver.
This shows you how close you are to the cruise ships at Canada Place. This photo also includes the Fairmont Waterfront Hotel and the Pan Pacific Hotel which is apart of Canada Place.There is also a convention center at this facility and until the new convention center was built next door this was the site of many conventions in Vancouver.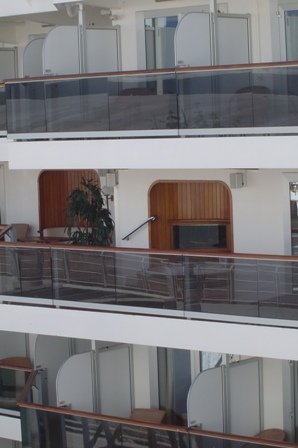 Three of the decks of cabins on the MV Oosterdam.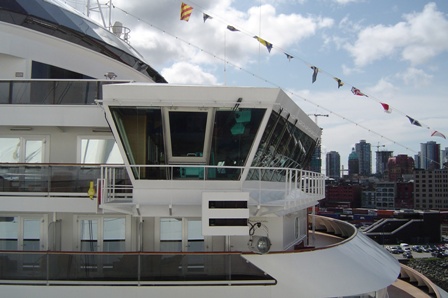 The bridge of the MV Oosterdam. It's hard to make out in this picture but in the background is a tall building with a green roof. This is the Marine Building and at one point was the tallest building in the British Empire.

Canada Place Pictures Page 1
Vancouver Telephone Directory
Please also visit our complete Vancouver Telephone Directory to do reverse address, reverse phone number and area code/zip code searches using the Vancouver Whitepages


Vancouver

is located in in the westernmost province of

British Columbia

in the country of

Canada

. With Vancouver's close proximity to the

United States

, Vancouver is Canada's gateway to the Pacific Rim nations and the rest of the

World

. Please visit these pages to learn more about British Columbia, Canada, the United States and other destinations around the World.