Canada Place Pictures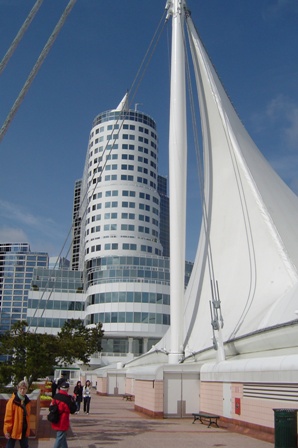 Canada Place was built for Expo 86 and was the site of the Canadian Pavillion. After Expo 86 it became home to the Vancouver Trade and Convention Center, the CN Imax theatre and the Pan Pacific Hotel. The tall building is the Pan Pacific Hotel and the white sail on the right is part of the iconic sails that are the roof of Canada Place.
A streetview of the Pan Pacific hotel which is the front of Canada Place. The Pan Pacific Hotel is a rare true waterfront hotel in Vancouver.
Another view of the Pan Pacifc hotel.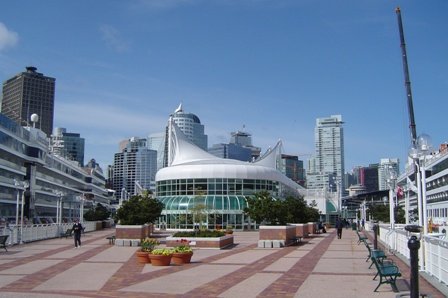 One of my favourite pictures. This is the promenade at Canada place framed by two cruise ships tied up alongside. Canada Place is a pier that is built upon hundreds of pilings driven into the seabed. This is the reason cruise ships are able to tie-up alongside.

Canada Place Page 2
Vancouver Telephone Directory
Please also visit our complete Vancouver Telephone Directory to do reverse address, reverse phone number and area code/zip code searches using the Vancouver Whitepages


Vancouver

is located in in the westernmost province of

British Columbia

in the country of

Canada

. With Vancouver's close proximity to the

United States

, Vancouver is Canada's gateway to the Pacific Rim nations and the rest of the

World

. Please visit these pages to learn more about British Columbia, Canada, the United States and other destinations around the World.