Cleveland Dam Pictures
Earnest Albert Cleveland


The Cleveland Dam holds back water and creates the Capilano resevoir. This body of water is a major source of drinking water for the residents of Vancouver. Although idylic there is no public access to this lake. The Capilano resevoir sits at the base of Grouse Mountain.
Another picture of the Capilano resevoir. In this shot you can see one of the towers that holds the cables for the tram that takes you up to the top of Grouse Mountain.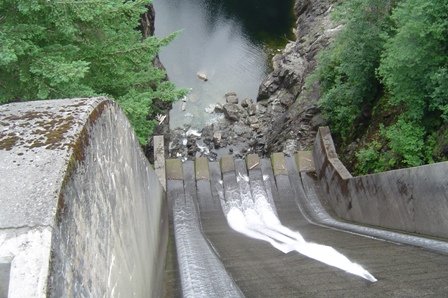 Looking over the dam to the spillway and Capilano river below.
Another look over the dam. You can just make out the observation area on the left in amongst the trees.

Page 1 Page 2 Page 3 Cleveland Dam
Greater Vancouver Parks
Located in the Capilano River Regional Park in North Vancouver BC.
Comments?
If you would like to comment on this page please add it here.
Vancouver Telephone Directory
Please also visit our complete Vancouver Telephone Directory to do reverse address, reverse phone number and area code/zip code searches using the Vancouver Whitepages


Vancouver

is located in in the westernmost province of

British Columbia

in the country of

Canada

. With Vancouver's close proximity to the

United States

, Vancouver is Canada's gateway to the Pacific Rim nations and the rest of the

World

. Please visit these pages to learn more about British Columbia, Canada, the United States and other destinations around the World.