Vancouver Whitecaps Pictures Page 2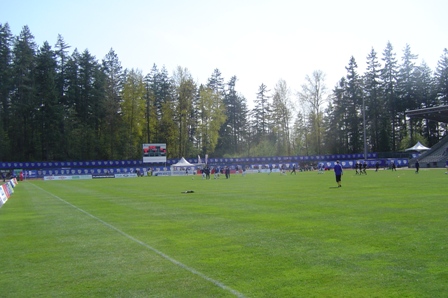 This was taken in March 2010 at a pre-season friendly ( hardly ) against the Seattle Sounders. This was at Swanguard Stadium and you are looking towards the south goal were the Southsiders congregate.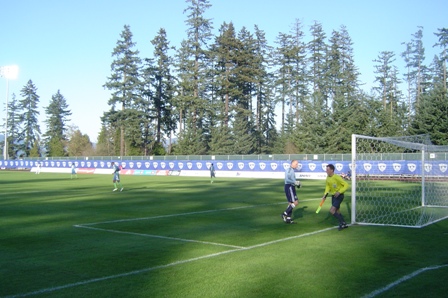 Casey Keller of Seattle Sounders ( ex - Fulham )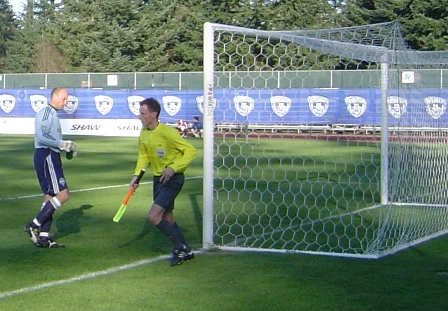 More Casey Keller.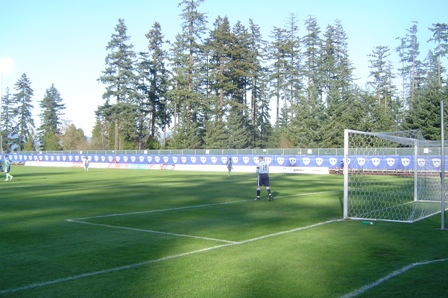 Another one of Casey Keller. Check out how close I am to the pitch. This is a general admission area, I have no special accreditation from the Vancouver Whitecaps to be this close to the pitch. There is usually about 400 other Southsiders standing with me in the same area!
As much as I hate the Seattle Sounders I do have to give their coach Sigi Schmid two thumbs up for this match. He brought his stars and he played them. I'm taking about Casey Keller, Freddie Montero and Freddie Ljunberg ( ex - Arsenal ). By doing this I feel he paid tribute to the serious footy fan who want to see a good match with all the Stars playing, even if they are from Seattle. Kudos Sigi, and this will be the nicest thing I write about the Seattle Sounders for a very long time!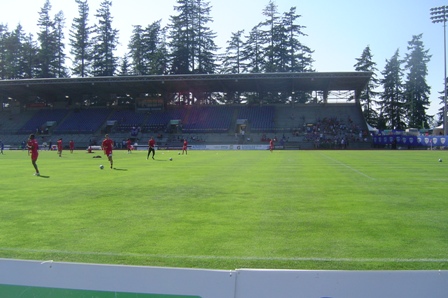 At the north end goal these are players from that corporate creation known by some as Toronto FC. They are warming up before the match. Vancouver Whitecaps FC Vancouver Whitecaps FC - official site.
The Vancouver Whitecaps FC are the oldest professional soccer club in North America and were founded in 1974.
Notables - 6 trophies, winner of the 1979 NASL Soccer Bowl over the Tampa Bay Rowdies, Alan Ball, Peter Beardsley and Willie Johnston. Vancouver Southsiders Vancouver Southsiders - official site
Standing at pitch level behind the south goal since 1999, Vancouver's most passionate sports fans have a long rivalry with the Portland Timbers and the Seattle Sounders. Montreal is viewed with absolute contempt as are that Corporate Creation known by some as Toronto FC.
Comments?
If you would like to comment on this page please add it here.