Vancouver Whitecaps Pictures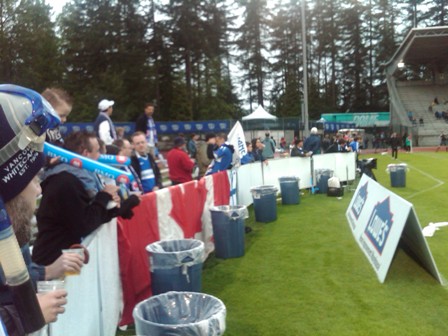 Standing with the Southsiders at Swanguard Stadium to watch the Vancouver Whitecaps. The Southsiders stand behind the south goal, at pitch level, for every Whitecaps home match. That is where I watch every match and you'll find me at the right post.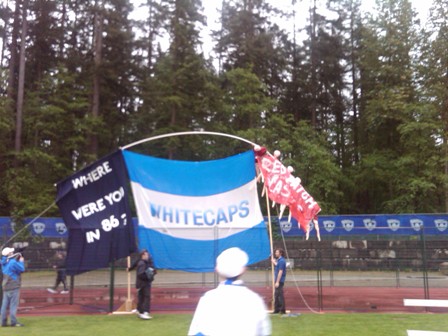 Some of the Southsiders putting up a banner prior to a match against Toronto FC. Where were you in 86 is directed at Toronto FC, who we were playing when this picture was taken. The answer to the question is Toronto FC wasn't even a concept in a corporate boardroom somwhere in 1986. While Vancouver was playing under the name "Vancouver 86ers" and were winning trophies! On the right side of the banner are some travelling TFC supporters!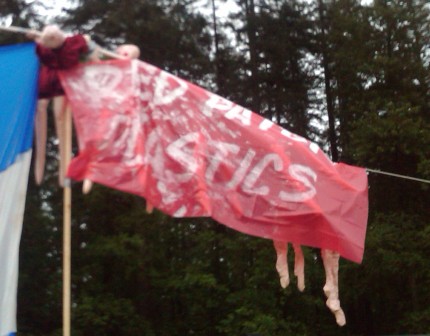 Close up shot of some TFC supporters. It reads Red Patch Plastics.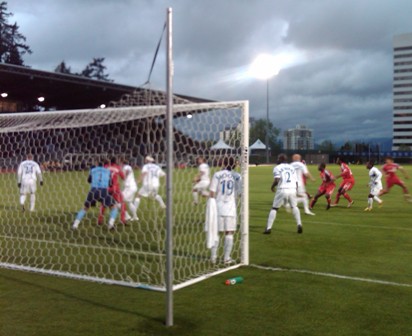 TFC has a corner when this was taken. This is literally how close you are to the action in the Southside. All I have is my ticket, no other special accreditation from the club is needed to stand this close to a Vancouver Whitecaps match! #19 Justin MMOOOOOOOOOSSSSSSSEEEEEE!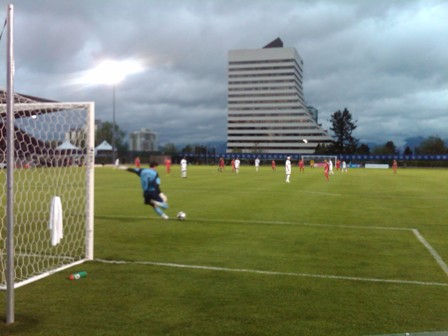 Jay Nolly winding up. ( Jay is ex-DC United and from Littleton Colorado and we love him! ) Jay Nolly's Magic (Also to the tune of Lonnie Donegan's "My Old Man's A Dustman") Jay Nolly's Magic
He wears a magic hat
And when he signed for Vancouver
He said "I fancy that"
He didn't sign for Portland
Or Seattle cos they're shite
He signed for Vancouver
Cos he's fucking dynamite from the Southsider's songbook! Vancouver Whitecaps FC Vancouver Whitecaps FC - official site.
The Vancouver Whitecaps FC are the oldest professional soccer club in North America and were founded in 1974.
Notables - 6 trophies, winner of the 1979 NASL Soccer Bowl over the Tampa Bay Rowdies, Alan Ball, Peter Beardsley and Willie Johnston. Vancouver Southsiders Vancouver Southsiders - official site
Standing at pitch level behind the south goal since 1999, Vancouver's most passionate sports fans have a long rivalry with the Portland Timbers and the Seattle Sounders. Montreal is viewed with absolute contempt as are that Corporate Creation known by some as Toronto FC.








Current Time and Weather in Vancouver