Travel Tips


These travel tips will get you packed and on your way! We want you to have all the travel information you need before setting off so that there are no complications and you can enjoy your travel in Canada or abroad in the best way possible! Follow these 3 famous P's! Plan, Pack and Proceed! Check out our Travel tips! We want you to have all the tools at your fingertips so that you keep safe and travel smoothly!
Plan Ahead of Time!
be successful, it is important to plan ahead of time, know where you are heading and how to get there safely while enjoying a smooth travel experience. Check out these travel tips to get started on your adventure! Tip #1: Always carry a valid passport whenever you travel outside of Canada. It is the only proof of your nationality and identity that is accepted in all countries.


Tip #2: Unlike a birth certificate or driver's license, a passport can be replaced if it is lost, stolen, damaged, destroyed or inaccessible on your trip.


Tip #3: For Canadians traveling from Canada to the United States: Even though a passport is not required at this time for entry to the United States, it is essential if you are taking a cruise or traveling on to another country. In the future a passport will eventually be required.


Be prepared before you set off on your travels...

Tip #4: A passport will usually be required for legal or financial transactions. i.e.cashing a travelers cheques.


Tip #5: Try to apply for a passport during the off-season, between June and November.


Tip #6: Ensure that you are carrying a valid passport. Check that the expiry date of the passport is well beyond your return date.


Tip #7: Remember to sign your passport on page 3, and fill in your current address and the name of a person to contact in case of emergency on page 4.


Tip #8: Make two photocopies of the identification page of the passport.


*Leave one copy with a friend or relative at home.
*Bring the second copy with you on your trip. Carry this photocopy separately from the passport when you travel. This can help identifying you if the passport is lost, stolen, damaged, destroyed or inaccessible.


Tip #9: Read the last page of the passport.
Passport & Visa Requirements
Visa Requirements: All countries have special entry requirements. Since those requirements may change, we suggest you consult the the nearest diplomatic mission of the country you intend to visit. You may also consult the Foreign Affairs Canada's Travel Reports. These provide general information on most countries as well as information on entry requirements.
Passport Validity Requirements: Many countries require passports to be valid for a number of months beyond the date of a visitor's entry. For that reason, before traveling to a country, ensure that your passport will be valid long enough by contacting the consular mission of the country you plan to visit. It is recommended that your passport be valid beyond your expected date of return home.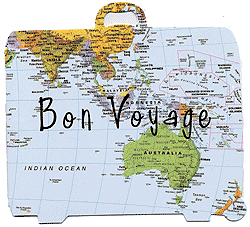 Check out these travel related websites that should provide you with all of your travel needs!
Foreign Affairs & International Trade Canada
Consular Affairs for Canadians Abroad
Citizenship and Immigration Canada
Service Canada
Travel & Health Information
Many cities in Canada have some form of public transit to help you get around. Explore Canada ? the official site of the Canadian Tourism Commission ? has a list of public transit systems in Canada?s major cities.
It's quite easy to travel the length of Canada, despite its vast size. You can drive, fly, take the train or travel by boat from one coast to the other.
There are a number of things you can do before you get to the airport to make your experience at the airport and at the pre-board screening checkpoint more efficient. Let the Canadian Air Transportation Security Authority show you how to go about things.
When you do arrive in your destination in Canada, and if you rent a car to get around, it is beneficial to know some of the vehicle rules. Before you head out on the road, it?s best to make sure that your vehicle hasn?t been the subject of a recall or a defect.
Are you going to take a ferry? Check out this list of Canadian ferries available in different parts of the country. Also, you can check out our Travel Checklist where you will find some basic things to look out for and check off before you depart your country of origin. We hope it gives you a good start! Some things to remember are...
If your passport is lost or stolen...
If your passport is lost or stolen while you are abroad, you should immediately report the incident to the local police. Make sure you get a copy of the police report or the report number. Then contact the nearest Government of Canada office. Before a new passport can be issued, you must complete an application form, produce documentary evidence of your Canadian citizenship (e.g., a birth or citizenship certificate), present new photographs, pay the required fee and complete a Statutory Declaration Concerning a Lost, Stolen, Inaccessible or Destroyed Canadian Passport or Travel Document (form PPT 203). If you subsequently find the missing passport, it must be returned to Passport Canada for inspection and destruction.
Illegal Drugs...
Drug use and trafficking are prohibited in all countries, even though drugs may be readily available and openly used in some areas. Most countries impose heavy fines and long prison sentences for possession and trafficking. In some countries, possession of even small amounts of drugs carries a prison sentence. Never take any parcel that is not yours across a border.
Choose your travel companions wisely. Never cross a border with a hitchhiker or as a hitchhiker. Although you may not be carrying anything illegal, your companions may be. For details, consult the Drugs and Travel section of our Web site.
Crime and Punishment...
Thousands of Canadians are currently imprisoned abroad for a wide range of offenses. The laws and customs of other countries can be very different from those in Canada, and ignorance is no defense when a crime is committed.
While in a foreign country, you are subject to its laws and regulations. Your Canadian citizenship offers no immunity.
If you find yourself in trouble, Canadian consular officials abroad can provide a list of lawyers with the necessary expertise, contact your family and friends and ensure you receive fair treatment according to the standards of that country. They cannot, however, wield any influence to reduce your sentence or fine.
Canadian Customs and Import Controls
If you have been away from Canada for 24 hours or more, you may bring back goods worth up to C$50, not including alcohol and tobacco products, without paying duties or taxes. If the goods you bring in are worth more than C$50 in total, you cannot claim this exemption. In this case, you have to pay full duties on all goods you bring in.
If you have been away from Canada for 48 hours or more, you may bring back goods worth up to C$200 without paying duties or taxes. These goods can include alcoholic beverages and tobacco products as follows: up to 1.14 liters (40 oz.) of liquor or 1.5 liters (53 oz.) of wine, or a case of 24 bottles or cans of beer or ale, each containing 355 ml (12 oz.). As for tobacco, you may bring back up to 200 cigarettes, 50 cigars or cigarillos, 200 tobacco sticks and 200 grams (7 oz.) of manufactured tobacco.
Tobacco products included in a personal exemption are still subject to a minimum duty unless they are marked ?Canada-Duty Paid?Droit acquitté.?
If you have been away from Canada for seven days or more, you may bring back goods worth up to C$750 without paying duties or taxes. These goods can include alcoholic beverages and tobacco products as described above. Note that provincial age restrictions apply to liquor and tobacco products.
When calculating the number of days you are absent, do not include the date you leave Canada, but do include the date you return.
If you have any questions about what you can bring home, call the Border Information Service Line of the Canada Border Services Agency.
Be Aware and Declare
You must declare all items purchased or acquired abroad, whether they are intended for yourself or as gifts, as well as goods bought at a Canadian or foreign duty-free store. Keep your original receipts for possible inspection.
The booklet I Declare (RC4044), published by the Canada Border Services Agency (CBSA), describes what you can and cannot bring back to Canada if you have been away for less than a year. After a stay abroad of more than a year, there are special import provisions for household items and personal belongings. Information is contained in the CBSA brochure Moving Back to Canada (RC4105).
For info on importing a vehicle, contact the CSBA (Canadian Border Service Agency).

FIND OUT WHAT TO PACK FOR YOUR TRIP HERE!
FIND OUT HOW TO PROCEED ON WITH YOUR TRAVEL SAFELY HERE!